Purpose
This is a review of the top utility snowmobiles on the market as of March 2007.   There has been a huge void in the utility snowmobile market since 1995 when the Ski-doo dual-track Alpine manufacturing was stopped.  Since that time there have been various wide track snowmobiles manufactured and one dual-track snowmobile manufactured in Italy.  This utility snowmobile review relates to hard utility chores such as grooming cross country ski trails.   The dual track has always been a favorite because of its wide compaction platform, low gearing, and high traction.  The Ski-doo Alpine did a good job of grooming, however, it fell short in the areas of steering , maneuverability, and most importantly operator comfort.  The single track utility machines have come a long way since 1994.  The Ski-doo Skandic, superwide track (SWT) is Bombardier's replacemen for  the Ski-doo Alpine.  It debuted in 1995.  It has had a few minor changes since 1995, such as an increase in displacement from  499 to 550 cc, and improved voltage regulation and lighting  but basically the machine has remained unchanged for the past decade.
Test Machines
The machines were the 2006 Ski-doo Skandic, SWT, the 2005 Ski-doo Expedition TUV, the 2007 Yamaha VK Professional, the 2007 Ski-doo Skandic SWT V800, the 2009 Polaris Widetrack IQ, and a 2006 Dual track Alpina Sherpa.
Objective
The chore of grooming with a snowmobile is more complex than one would think.  The snowmobile must pull a 200-300 lb groomer with up to 1500 pounds of pulling resistance due to the groomer teeth or knives,  and  carried snow, while maintaining, traction, steering, and most importantly cooling at very low speeds, typically 4-6 miles per hour.  The low speeds require low gearing and low rpm clutch engagements to prevent belt burning.  The cooling systems must either be fan cooled or liquid cooled with a radiator and fan.  The typical heat exchanger under the tunnel and floor boards does not provide enough cooling in slow grooming operations on hard surfaces without loose snow present .  Special devices on the back of the skis have been tried unsuccessfully to spray snow on to the heat exchangers.  The low speed application of grooming requires a transmission with low gearing.  Wide ratio clutches have been tried unsuccessfully.  Traction requirements are a wide and long track with a medium size lug that is able to be studded for ice.  Suspension requirements include a stiff rear suspension that does not squat with the weight of the groomer but delivers adequate ski pressure for steering.  Reverse in the transmission is mandatory.  The suspension does not need to be soft for dampening bumps because trail grooming is done on a relatively smooth surface.  In the last five years, trail grooming implements have had electric actuators as standard equipment, the grooming implement has two to three actuators standard with each actuator drawing 20 to 30 amps and consisting of a reversible twelve volt electric motor.  The ideal grooming machine has a twelve volt battery and charging system, able to keep with these electric loads.  A heavy duty hitch is also a requirement.
The Ideal Grooming Snowmobile
The future ideal grooming snowmobile would come with a powerful 4 stroke EFI engine with a low geared transmission. It would have a large radiator and heated floor boards without under tunnel heat exchangers that drop slush on the trail which is picked up by the grooming implements. The machine would also have ducts from the radiator and fan to the operator and windshield area. The dash would be equipped with a fuel and temperature gauge and a tachometer, an odometer and large digital speedometer. The machine would  have three double reversing polarity, self centering switches mounted conveniently on the left handle bar or left section of the dash to operate the groomer  with 30 amp fuses readily accessible.  The ideal grooming machine would also come wired with a 6-8 pin receptacle and a switched rear work light since most grooming is done in the dark hours when the skiers are sleeping. The ideal grooming machine would have bogie wheels that do not require loose snow for lubrication like the slide systems, and a dash adjustable shock for varying traction and steering depending on snow conditions. The seat configuration would be a one up seat with a backrest that would flip down for 2 up capacity.  The ideal grooming snowmobile would have a factory installed heavy duty pintle hitch and a large storage area.
Grooming Snowmobile Comparison
Snowmobile
Maximum
Ski-doo SWT
Ski-doo SWT
Yamaha
Alpina
Ski-doo TUV
Polaris
Points
550 Fan
V-800
VK-Pro
Sherpa
1000
Widetrak IQ II
Model Year
2007
2008
2007
2006
2006
2009
Fuel Economy
10
5
10
9
9
9
9
Cooling
20
19
18
10
19
14
20
Power
10
8
9
10
10
9
9
Traction
15
9
14
13
14
11
11
Steering
20
12
13
15
18
11
12
Controls
5
4
5
1
5
5
4
Cold Starts
3
2
3
1
3
3
3
Hitch
2
1
1
1
2
1
1
Noise
5
1
4
3
4
3
3
Odor
5
1
4
4
5
4
4
Vibration
3
2
3
3
2
2
2
Seat
2
1
2
2
2
1
2
100
65
86
72
93
73
80
Review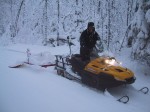 The Ski-doo Skandic SWT 550 fan, the two stroke 550 engine has been very dependable for grooming although it has poor fuel economy and the noise and smell of the two stroke engine. If the 69.1 dB drive by and 86.0 dB static noise levels don't bother you, you will enjoy industry leading cooling system charcteristics.  The cooling system of this machine has been very reliable but operators in warmer climates and high altitudes have installed after market cylinder head temperature gauges.  The 24 inch wide track has a low .9 inch profile but offers 4 inches of extra width over other wide track machines.  The two speed synchromesh transmission has proven very reliable over the past 12 years provided it gets its gear lube changed.  The articulated rear suspension has three basic adjustments; the front telescopic suspension has none.  The machine steers as well as the old Alpine but more importantly, with two skis it backs up for long distances.  This SWT can be found with additional operator installed nose weights and after market Simmons skis to enhance steering performance.  The wide tunnel and low seat do not offer comfort for the long legged operators.  The stator based electric charging system is able to keep up with most groomers electric needs if a low wattage rear work light is installed. Voltage  regulators appear to be the weak link in this system. The machine puts out  240 watts at 6000 rpm.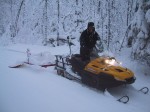 The Ski-doo Skandic SWT 4-TEC V-800 four stroke came out in 2007, using the V 800 engine that was proven in the Can Am 4-wheelers.This is an electronic fuel injected engine.  The low end torque and engine power is very good with low noise, 61.4 dB drive by and 80.0 dB static, and there is no odor due to the four stroke engine.  The engine started very well and was tested in -20F conditions.  The engine did have some flat spots and I question whether it was thoroughly mapped at low speeds for grooming.  I would still take this four stroke EFI engine over any four stroke carbureted engine available on the market.  It weighs in at 717 lbs (59 lbs more than the SWT 550 fan).  It also has the 24 inch wide by 156 inch long track and it has the same suspension as the SWT 550 fan.  The track lug has been increased to 1.25 inches which gives a substantial increase to deep snow traction. The engine cooling system worked flawlessly over the 1500 miles of grooming. The machine did indicate in the low hard snow, heavy pulling applications that it was getting warm, however, the heat alarm never came on.  (The heat alarm was tested and did work.) An optional temperature gauge is available.  While the machine has the same width tunnel as the SWT 550 fan, it has a wider and taller contoured seat for more comfort.  The electrical system worked well and has plenty of power for high power work lights in addition to actuators.  It appears the Skidoo engineers were trying to satisfy the grooming requirements as they installed a three position switch on the left handle grip and a twelve volt cigarette lighter style receptacle on the rear of the machine.  The switch does not self center and does not reverse polarity. While this outlet can be used for a work light, it is useless to operate actuators….maybe next year.  The V-800 was tested for a complete season and logged 1500 miles without any issues.
The Ski-doo Expedition TUV V–1000, was tested with the Rotax V-1000 four stroke with SOHC.  This is a 2 cylinder sequential EFI engine with a tuned muffler, 64.1 dB drive by and 86.3 dB static,  that sounds "Harley like" but is fairly quiet.  This engine is rumored to have been detuned and designed for the high performance touring sleds.  Published HP is not available but we are guessing it could be close to 90  HP. It was only in the 2005 and 2006 TUV; in 2007 the V-800 replaced it.  The EFI was mapped/tuned, started well, and had very good low end performance.  Cooling was an issue however.  The test machine was equipped with an optional radiator fan kit from Ski-doo ($800.00).  The machine performed well in all but hard packed, icy conditions at low speeds when it would over heat pulling heavy loads.  The TUV was compared with the VK Pro for cooling and the TUV would last 30-40 % longer before the heat alarm came on. It housed the same dependable transmissions as the SWT's but was built on a Yeti Chassis.  The front suspension is a curved swing arm with a hydraulic shock and the rear suspension has the SUV suspension with twin shocks, hydraulic and gas.  It is a softer higher travel suspension but still offers adjustability for grooming.  However, it takes a more skilled operator to get this machine to steer properly under load.  This was our choice in operator comfort with its comfortable seat, softer suspension, and appeared to be more agile in light grooming applications.  The electrical system puts out 40 amps, or approximately 480 watts, and did the electric chores without any issues.  Like the V-800, it houses the 12 volt battery under the seat for easy access.  The TUV that was tested had been operated for two seasons and had 3200 miles of grooming without any  issues other than a few overheat alarms.  We understand that the TUV may not be available for 2008.
The Yamaha VK Professional is a new machine that came out in 2006 to replace the Viking 540.  This machine appears to be built with heavy duty work in mind; it houses the Genesis 120 engine which is a four stroke 3 cylinder engine delivering 120 HP!
It debuted in 2006 with a wide ratio clutch and no low range transmission, however in 2007 a high low range two speed transmission was standard.  The four stroke engine is  carburated
And even as an experienced groomer and snowmobile operator, I have found the carburated engine difficult to start in cold and warm environments.  Rookie operators will most likely have trouble with this feature. Yamaha has an EFI 1000 cc engine but it is not intended for this machine in 2008.  The engine fell short in 2006 with poor cooling and the addition of the two speed gear box may have improved cooling slightly but the machine still overheated in testing.  The combination of the 20x156x1.25 inch Camoplast Ripsaw track and the well tuned suspension gave this machine plenty of traction and steering.  The front suspension and rear suspension were totally adjustable and provided the best traction steering combination on the market for single wide track machines.
The machine was comfortable to operate with the exception of it being very difficult to shift. It had an optional pintle hitch that was inadequate like all the other utility machines.  The electric system was able to keep up with the grooming needs.
The machine came with a factory spec sheet that included the set up for heavy groomer pulling,(suspension settings, gearing, clutch setting, and ski runners). The 2006 model was tested for a season and logged 800 miles, the 2007 was tested for one season and logged 700 miles. A few hard starts, spark plug changes, hitch failure and overheat issues were experienced along with some frustrated shifts from low to reverse.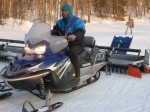 We tested a 2009 Polaris Widetrack IQ for about a month in the Spring as well as late winter conditions mainly grooming ski trails. While this sled wasn't tested in all the same conditions as the others its outstanding cooling ability and the venerable IQ platform meant it couldn't be ignored. However, the machine was also tested as a standard utility machine, (hauling wood, pulling a sled etc) as well as tested it in some late season powder. The front suspension on the Widetrack was up to all the tasks we threw at it with ample amounts of ski pressure to facilitate good steering. However, the rear suspension was too soft even in at its stiffest setting to facilitate good grooming. The bobbing motion of the rear suspension required constant readjusting of groomer teeth which is tricky and annoying. The low end torque of the 80 hp four stroke was comparable to the V-800. We found no issues with the tipped rail rear suspension in grooming applications. The noise of the Widetrack is indeed an issue as it was 69.7 dB on drive by tests and at 86.0 dB in static testing. It did appear that an exhaust gasket would silence the leaky and noisy exhaust before it entered the muffler. The shifter on the Widetrack definitely needed some tweaking which we chalk up to the fact that the prototype just wasnt quite tuned in yet. The biggest and best feature of this utility sled, as far as grooming is concerned is its exceptional cooling ability. The machine was run in some of the worst spring conditions, hardpack snow and ice, and warm temperatures, pulling the largest Ginzu grommer offered, 9 feet, and it never once overheated. The motor was steady at 185 F compared to the SWT V-800 running at well over 230 F. The fuel consumption of the Widetrack was  8.8 mpg with the V-800 coming in with 12.8 mpg. We believe that the EFI was not properly tuned, defaulting to running on the rich side in this early model. If Polaris can get the rear suspension stiffened, this machine will be a very strong contendor for the Trail Groomers.
The dual track Alpina Sherpa is the Hummer of grooming snowmobiles.  This snowmobile, if you can call it that, is hand built in Vicenza, Italy and has been built since 2002. The 4 stroke machine weighs in at 1360 lbs and houses a 1.4 liter EFI automotive Peugot engine.  The 75 HP engine coupled with its two speed low range transmission can creep at the slowest grooming speeds without burning belts. The cooling system consists of an automotive radiator and dual electric fans and heat exchanger floorboards.  The machine ran relatively hot during testing as indicated by the analog temperature gauge but the temperature alarm never sounded during even the hardest chores (the factory explained the cooling system is designed to run hot for efficient engine performance and clean exhaust emissions).  The combination of the catalytic converter,  muffler and dual oxygen sensors created clean exhaust and a quiet operation.  The tracks are dual 20x156x1.2 inch and provided plenty of traction, compaction, and floatation.  The simple rear bogie suspension provided very little travel which was perfect for pulling heavy loads and the bogies worked very well in hard snow since they did not require the lubrication of the slides systems.  The telescopic front suspension steered the machine very well in all conditions except deep unpacked powder.  The large work platform and running boards created a nice work area for operating the machine and hauling gear.  The heated seat and heated floor boards provided operator comfort even in the coldest conditions, (too bad they could not duct the hot air from the radiator up to the windshield and operators area).  The machine did create more snow dust that would collect on the operator with its large non vented hood.  The electronic dash has 13 alarms, 4 gauges, and 2 computers to keep the operator in tune to the engine and operating systems.  In addition to the automotive alternator with plenty of electrical capacity, the machine can be factory ordered with switches  and rear connectors for grooming actuators and work lights.  The machine comes with a heavy duty pintle hitch and an optional two inch receiver.  We have tested and groomed with the Alpina Sherpa for four seasons logging over 2,000 kilometers on 3 machines with no major problems pulling the largest groomers available on the market.  The retail price on this machine is $32,500 and availability is limited.
Grooming Snowmobile Specifications
Snowmobile
Units
Ski-doo SWT
Ski-doo SWT
Yamaha
Alpina
Ski-doo TUV
Polaris
550 Fan
V-800
VK-Pro
Sherpa
1000
Widetrak IQ II
Studded
Weight
pounds
610
717
765
1,360
720
730
Power
HP
65 est
58 est
120
75
90 est
80
Track (width/lg/lug)
inches
24x156x.9
24x156x1.25
20 x156x1.25
2x20x156x1.2
24x156x1.25
20 x156x1.25
Suspension
slides
slides
slides
bogie ATSS
slides
slides
Cooling
type
fan
radiator & exc
radiator & exc
radiator & exc
radiator & exc
radiator & exc
Charging Circuit
watts
240
480
?
1,000
480
?
Temp Gauge
yes/no
no
optional
optional
yes
no
yes
HD Pintle Hitch
yes/no
no
no
optional
yes
no
no
Studable
yes/no
yes
no
yes
yes
?
yes
Pulling power in snow
pounds force
480
760
690
800
590
700 estimate
Pulling power on hard
pounds force
940
1,100
1,180
1,580
980
1050 estimate
Pulling power on ice
pounds force
1,040
770
800
840
780
NA
Turning Radius
feet
34
41
39
38
44
42
Noise level (Drive by)
decibels A
68.1
61.2
NA
NA
64.1
69.7
Fuel Economy
mpg
4.5
12.8
9.2
8.5
10.7
8.8
List Price (USD)
$8,949
$10,199
$10,599
$32,500
$9,899
Measurements were made at ABR Trails by Eric Anderson and an independent testing team and published factory brochures
The Polaris had an exhaust leak accounting for higher noise levels
The grooming tests
The testing that was done was a combination of objective and subjective assessments.
Fuel Economy was measured in various conditions with the majority of the time spent pulling medium sized groomers.
Cooling was tested on hard snow condions pulling a medium size groomer on hilly terrain at various ambient temperatures.
Power was evaluated pulling groomers up hills.
Traction was measured with a force gauge in various conditions pulling a groomer.
Steering was measured on a level surface with a weighted rear suspension simulating the groomer. Steering was also evaluated on the trails on uphill climbs with curves.
Noise, odor and vibration were evaluated during the grooming tests.
Cold starts were conducted at -20 F.
The author:
Eric  Anderson is the co-owner and operator of ABR Ski Trails and has a passion for grooming equipment.  He is a licensed mechanical engineer from the automotive industry with several patents in drive train and hydraulic components.  He has been operating and testing grooming equipment since 1994 when he and his father opened the ABR Ski Trails to the public grooming with an Artic Cat long track and two Ski-doo Alpines.  Eric has been skiing and snowmobiling since the age of 10 years old.  He has been contracted as a groomer and consultant for several high level ski events throughout the Midwest.
The testers:
Rick Slade participated as a tester and evaluator for this article.
Rick has been a snowmobile mechanic for 29 years and has been an avid snowmobiler for 40 years.  Rick has been grooming ski trails and skiing for the last 7 years.
Kevin Balduc  is a college student who has been snowmobiling for ten years and grooming and skiing for two years.
Angela Santini, wife of Eric Anderson, assisted in data compilation and recording.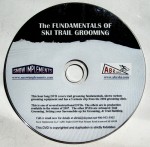 The Fundamentals of Ski Trail Grooming is a one hour long instructional  DVD, which ABR created on basic grooming and is on sale now for $29.95.  ABR has hosted seven Midwest Grooming Clinics,  which attract 50 to 100 groomers from across the country and 8 to 20 vendors of grooming vehicles and grooming implements.  The 2009 Midwest Grooming Clinic is scheduled for January 20th and 21st (Tuesday and Wednesday).
ABR tests groomers on their 60 km trail system from mid-November into April. ABR sells new and used grooming equipment and used grooming snowmobiles across the country.
Eric Anderson is working on a review of ATV vehicles with track systems, Advanced Grooming   and a Trail Building and Maintaining  DVD which should be ready next year.