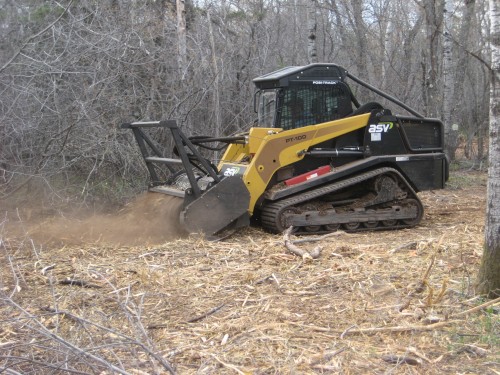 After years of trail design and building ABR Trails has acquired some specific equipment and skills that are very useful in trail building, pasture clearing, food plots, land clearing or just general clean up. We hire out in the off months (May-Sept) to build trails and consult on trail layouts.  Our equipment consists of a JD 450J LGP  dozer, and JD 50D Excavator, a Rubber tracked JD 333D tracked loader with a Fecon mulching head, rotary head, auger, and  bucket and a JD 3320 tractor with mowers and bucket. We have a small dump truck and a dump trailer along with a small forwarder and chipper. We  have access to timber processors and large dozers, excavators and dump trucks if needed
While most people are scared of the costs of hiring a contractor, we can provide a fixed fee rate if the job is easy to define or we can work by the day. Depending on the equipment the rate is $600-$1,000/day for an 8 hour day.
We are licensed and insured and are very easy to work with.