April 2, 2020 update:  we sold the FIREWOOD processing equipment to a new company. They can be reached at 906-364-1421. We are helping them with the transition and we have given them most of the data base of phone numbers that we have. Please contact Aaron at 906-364-1421 for placing your order for firewood.  Thank you for your past business, I really enjoyed the firewood business and met many great people.
HISTORY
ABR has been in business and incorporated since 1995. We have been selling firewood for 24 years with a very good reputation. In the 2012 we stepped up the firewood production to a high production firewood processor and trucks and equipment to support the business.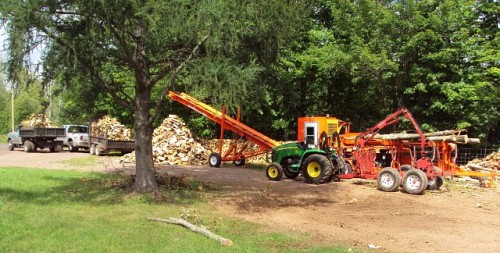 In March 2014 we set up on US2 for access to an all-season road and quicker access to our delivery area.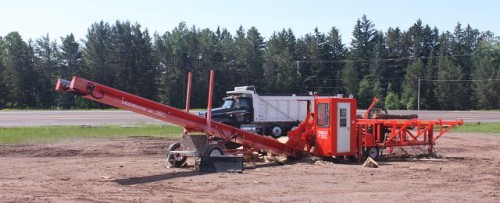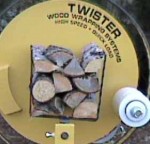 In May of 2014 we added a firewood bundler from Twister to produce uniform firewood bundles.
FIREWOOD
Sizes, shapes and species
Not everyone likes the same flavors so we do produce different sizes and species of firewood. Our standard firewood is mostly Maple. We do have Ash, Oak, White Birch, and Cherry available. Our standard length is 16 inches and we split to different sizes for different customers. Larger wood for outdoor boilers is available. Our wood is all local cut from our managed forests and purchased in logger cords from the local area. All of our trees are natural and grown organically.

DELIVERY
We have 5 trucks available for deliveries. We like to deliver at least 2 cords but have been known to deliver smaller loads as needed. We normally do not charge delivery for orders with the large truck. The large truck is a quad axle dump truck and has a 37 cubic yard box which can hold 10-14 face cords. We don't run the big quad in the winter.

FACE CORD
We sell Firewood by the facecord. A face cord is wood stacked 4 feet high in a row 8 feet long and is the width of the wood, normally 16 inches. There would be 3 Face cord to make a full cord, however a logger cord of 8 foot logs does not make 3 face cords, it makes about 2.4 face cords. We have a reputation of delivering fair and generous size loads. A face cord of wood fills the back of a normal size pickup thrown in, not stacked.
DRY WOOD
We know the moisture contact of the wood we sell. It is important not to burn green wood due to the creosote it creates. We check our wood with a moisture meter and will let you know the honest dryness to expect when you burn the wood.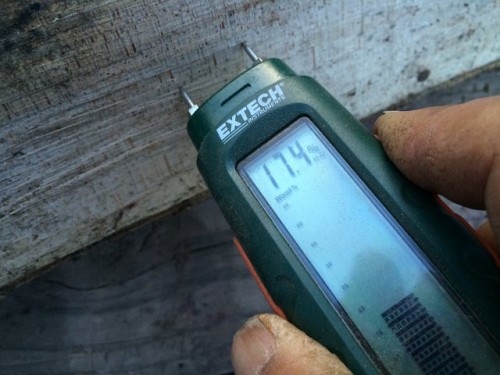 NEW Campfire wood available for   $50 face cord :We have piles of cut and split dry campfire wood for $50 face cord. The piles are pine and spruce (softwoods) that add a nice crackle to the fire and are easy lighting. We also have softwood and hardwood slabs that are thinner and nice to burn and easy to split finer if needed….and we have the famous  "Beaver cookies"! These are hardwood cutoffs from 3 inches to 10 inches… very good for keeping the fire going for the "Bud light suitcase" nights at the camp fire. we often have a skid steer bucket of campfire wood for $30 a the gate….self pay
We have Cedar cut and split for $100/ face cord or $5 bundle.
We have hardwood and softwood cores. Cores are the heart wood with the dense BTUS for heat and most importantly no bark for bugs or mess! This wood is approved at many state campgrounds where other firewood is prohibited and fined. Cores sell for $100 face cord. $5/bundle self serve.
It is not too early to get on the wood list for next summer or fall delivery!!!! Delivery does cost a bit extra.We try to be at the wood yard most weekends but call ahead, we are there some weekdays.
QUALITY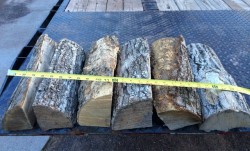 We may not be the cheapest source of firewood. We are professionals with insurance, licenses and a good reputation to stay in business. We normally do not touch the wood handling it many times and we do not use dangerous chain saws and wood splitters, we use a large fire wood processor which is loaded with a skid-steer and run from the comfort of a cab. Our trucks and drivers are clean and neat, legal and DOT approved. When you call, we call you back; when we say we will deliver, we bring you what we say we will deliver, not shorting you on quantity or quality!
PRICE
$75 per face cord hardwood at the wood yard
$750-1,125 for a full quad dump truck delivered. summer only
$80 per Face cord delivered locally for smaller loads… $1/mile for outside the 10 mile area.
$50 for a pick up load of Campfire wood at the wood yard.
$100 for a face cord of cores (no bark and legal in most state camp grounds)
$100 for a face cord of cedar
Smaller orders are welcome, an armload, wheelbarrow load etc.
Animal bedding/wood chips are also available for sale
6% Michigan Sales tax applies.
ORDERING
Call Eric Anderson, Owner on the cell phone 906-364-3502 to get details, or place orders.
Office phone 906-932-3502/ Fax 906-932-0042
Get on the list early so we have your wood reserved you only pay once the wood is delivered.